I put this together last night after watching film on Davenport. I would be thrilled if the Bears took him at #8...
EDGE Marcus Davenport (UTSA) 6'7" 256 lbs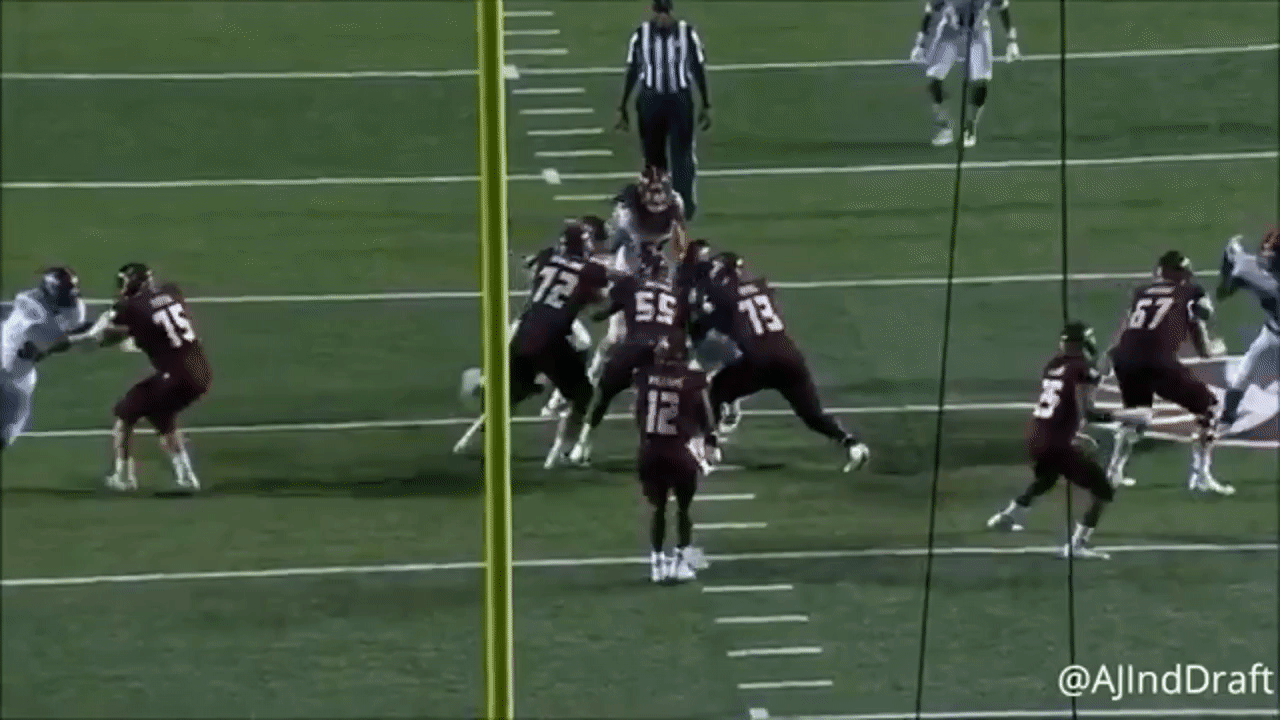 Is Marcus Davenport the next DeMarcus Ware? Yes, Davenport played at a small school with seemingly lower competition. But so did Ware when he was in college. Some people will not be able to get over that fact, but all the attributes are there on display every single game no matter the competition.
Davenport is an absolute freak of nature athletically. He was actually converted from a WR if you could believe that. With his huge frame he could easily put on more mass if he needs to. Physically and athletically, Davenport could be the highest ceiling player in the NFL.
UTSA plays a 3-4 defense, but Davenport is not used like a conventional OLB. He's usually lined up in a stand up stance all alone on the left side of the line. While traditional OLB's have a 5 tech next to them to take on an initial block from the OT or to cover the inside run, Davenport is held responsible for the entire left side the line.
This means that he's the RT's sole responsibility and the RG can easily come help with a double team. This also means that Davenport is responsible for any inside runs to his side. He has to show incredible discipline to cover the run as well as trying to get around the corner to rush the QB. He cannot line up wide like most OLB's have the luxury of doing. But none of this even matters, because Davenport is virtually unblockable either way. And he's equally as great against the run as rushing the QB.
Length/Hands
Because of his freakish length, Davenport easily keeps offensive linemen off of him at the point of impact. Rarely could an offensive tackle get into Davenport's body because of his long arms. And when he got his arms on you, he knew what to do.
Here, Davenport effortlessly keeps the RT off of him with his long arms, and then he drops him to the ground. The OT should have faked an injury and get carted off the field as far away from Davenport as possible...
LENGTH #1
If he doesn't get to the QB, he well contest the pass with those long arms and 6'7" frame...
LENGTH #2
The combination of first step acceleration, length, and hand usage is on display here...
LENGTH #3
Here again the RT just can't get anywhere near Davenport...
LENGTH #4
Power
Davenport is not the biggest guy in the world at 256 lbs, but the power he generates is nothing short of remarkable.
Here Davenport beats the LT right at the point of impact and drives him violently into the QB...
POWER #1
Here is an initial double team that Davenport just powers right through...
POWER #2
This time Davenport takes on the guard and almost drops him on his ass...
POWER #3
Here Davenport craters the entire right side of the offensive line...
POWER #4
Speed
When Davenport is not going through blockers, he uses his incredible first step acceleration to get around them and his sheer speed to get to ball carriers.
Here Davenport gets to the RB before the QB even has a chance to hand it off to him...
SPEED #1
This is one of those plays that you just have to see to believe. It also highlights his discipline against the run...
SPEED #2
Davenport speed rushes right by the RT...
SPEED #3
Demonstrating his ridiculous closing speed...
SPEED #4
Motor
Davenport is relentless. He will not stop until he gets to the ball carrier. His will and determination is impressive. This is something coaches will fall in love with.
I couldn't help but just laugh after watching this play. Davenport comes screaming through the interior of the offensive line, misses the sack and falls 5 yards behind the QB, but gets back up and is in on the tackle of the QB scrambling out of the pocket. LOL...
MOTOR #1
Relentless pursuit of the qb...
MOTOR #2
No matter how many blockers you put in front of him, Davenport will not stop working...
MOTOR #3
Bottom line
Yes, this is a risky pick, but the rewards could be great. Davenport has all the talent to be able to terrorize NFL Qb's.