I looked up what I could on this. Here's what I found.
From the 2018 NFL Rulebook...
Rule 7. Dead Ball... Section 2. Article 1
Quote:
m. when an official sounds the whistle erroneously while the ball is still in play, the ball becomes dead immediately.
2. If the ball is a loose ball resulting from a fumble, backward pass, or illegal forward pass, the team last in possession may elect to put the ball in play at the spot where possession was lost or to replay the down.
The above shows that the rule is that the offensive team gets the ball where last possessed by Miller. And it says absolutely clearly that a whistle means it's a dead ball. Period.
Rule 15. Officials and Instant Replay, Section 2, Article 5.
Quote:
If an on-field ruling of a dead ball (down by contact, out of bounds, or incomplete forward pass) is changed, the ball belongs to the recovering player at the spot of the recovery, and any advance is nullified.
This rule is unclear, since it doesn't address reversed incomplete with whistle during fumble.
This is a key element from a book called the "Instant Replay Casebook", which I couldn't find online...
https://twitter.com/NFLOfficiating/stat ... 1257510913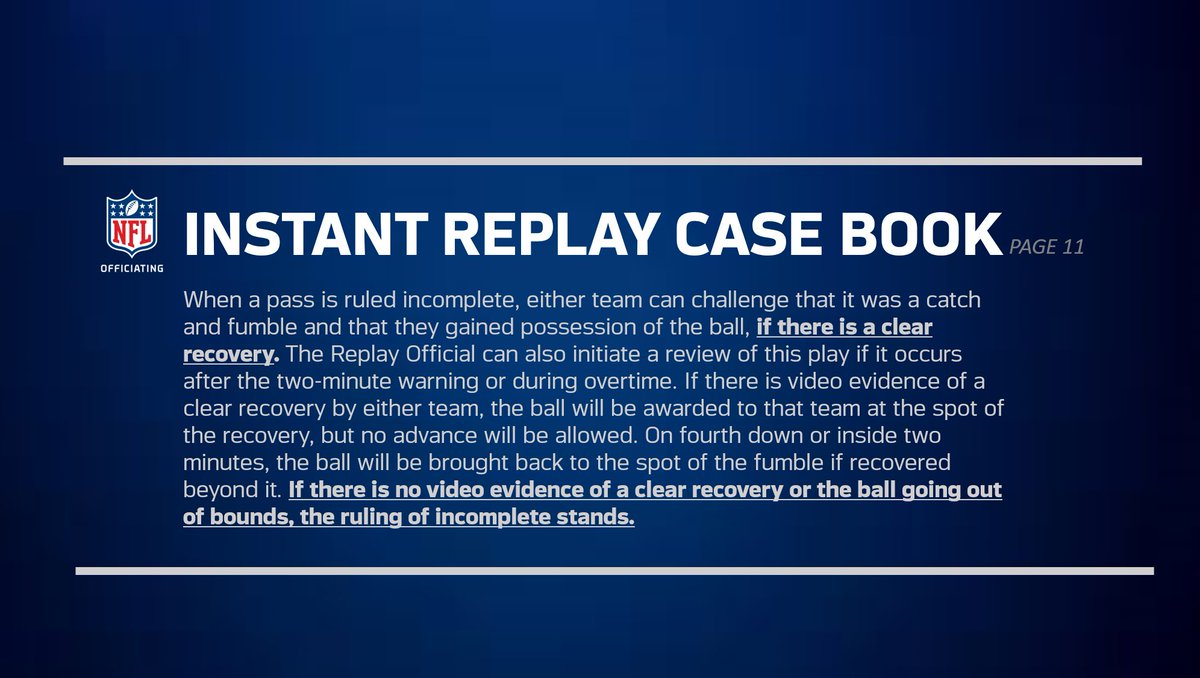 This justifies the ruling of incomplete. Note that this rule doesn't change rule 7.2.1.m above that says it's a dead ball based on the "incomplete" whistle, which then can't be recovered. But what this really does is demonstrate that the NFL is making a travesty of the game by having different rules for the same play, one rule if a circumstance is called correctly on the field and another if the play is called wrong initially and replayed.
_________________
Mikefive's theory: The only time you KNOW that a sports team player, coach or management member is being 100% honest is when they're NOT reciting "the company line".
Go back to leather helmets, NFL.